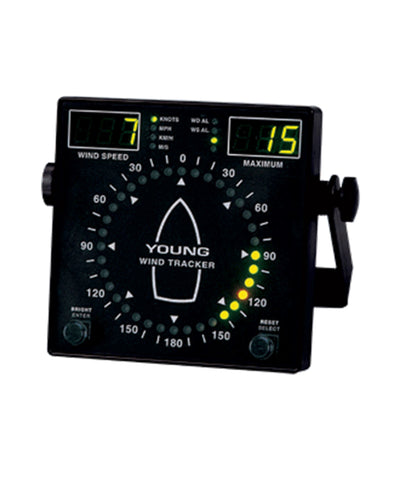 RM Young Marine Wind Tracker Model 06206
Product Description 
The Marine Wind Tracker has special features for shipboard use. 
Wind speed is displayed in your choice of units: KNOTS, MPH, KM/H, M/S. Maximum wind speed is also shown. Wind direction information is clearly displayed on a circular pattern of LEDs. Bold front panel graphics give a quick indication of wind angle relative to vessel heading.
Brightness control allows adjustment for best viewing in any light. Luminous front panel markings allow viewing even in a darkened pilothouse. 4-20 mA inputs, Serial NMEA, and Voltage outputs are standard on the Marine Wind Tracker.
Alarms for both wind speed and wind direction are included. The Marine Wind Tracker is very compact for easy mounting on vertical bulkheads or consoles. 
General Specifications
| | |
| --- | --- |
| Product Name | Model 06206 Marine Wind Tracker |
| Wind Speed Range | 0-100 MPH, 0-50 M/S, 0-200 KM/H, 0-100 KNOTS |
| Wind Direction Range | 0-180 degrees (port & starboard) |
| Display Resolution | Wind Speed & Maximum- 1 unit (0.1 unit M/S only) Wind Direction- 10 degrees (36 points circular), 1 degree (digital display mode) |
| Recommended Sensors | Wind Monitor, Wind Monitor-MA, Wind Monitor-SE, Wind Monitor-JR |
| Other Inputs | RS-485 (NMEA) 4-20 mA |
| Voltage Outputs | 0-5 VDC Full Scale for WS & WD |
| Alarm Relays | Normally Open contacts for WS & WD Contact Rating: 5A resistive, 2A inductive @ 250 VAC, 30 VDC |
| Remote Displays | Up to 16 remote displays can be connected in parallel |
| Power Requirement | 12-30 VDC, 4.5 W |

Size Specifications
| | |
| --- | --- |
| Dimensions (mm) | 144mm (H) x 144mm (L) x 36mm (D) |
| Weight (kg) | 0.45kg |
Further information
Manufacturer Product Features and Details
Product Sheet
User Manual

Product Code
RMY-06206
---
We Also Recommend