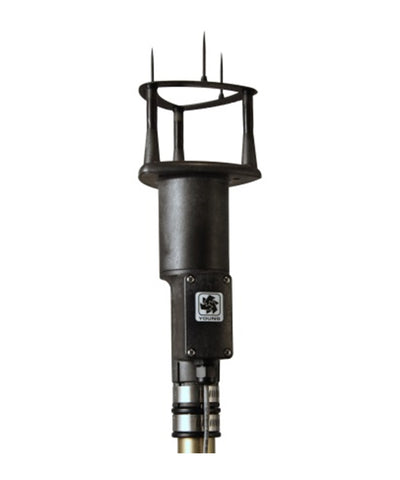 RM Young Ultrasonic Anemometer Marine 86106 Model
Product Description 
Introducing the YOUNG Model 86106 next generation 2D Ultrasonic Anemometer. The sensor offers high performance and low power consumption in a compact size. It is ideal for the most demanding wind sensing applications.

The sensor features durable, corrosion-resistant construction with sensitive ultrasonic transducers secured in a streamlined molded frame. The 86106 is fully wind tunnel tested and calibrated to provide accurate wind measurement over a wide operating range.
The standard sensor includes many useful output options. Analog voltage outputs are provided for wind speed and wind direction. 4-20 mA current signals are available for each channel and are well suited for long cable runs or for industrial settings where noise immunity is important.
A variety of serial output formats are also available. These include ASCII text, RMYT (compatible with YOUNG displays) and NMEA formats. The sensor installs on readily available 1 inch (IPS) pipe. Wiring connections are made in a convenient weatherproof junction box; special mounting adapters, connectors and cables are not required 
General Specifications
Product Name
Ultrasonic Anemometer Marine Model 86106
Wind Speed
Range: 0 – 75 m/s
Resolution: 0.01 m/s
Starting Threshold: 0.01 m/s
Accuracy:  30 m/s +/- 2% or 0.1 m/s, 75 m/s +/- 3%
Response Time: <0.25 seconds
Wind Direction
Azimuth Range: 0 - 360 degrees
Resolution: 0.1 degree
Starting Threshold: 0.01 m/s
Accuracy: +/- 2 degrees
Response Time: <0.25 seconds
Serial Output
RS232 or RS485
Formats: ASCII, ASCII polled, NMEA, RMYT, SDI-12
Baud: 1200, 4800, 9600, 38400
Wind Units: m/s, knots, mph, kmph
Wind Format: Speed & Direction or U & V
Status Indicator: Standard with ASCII & NMEA
Analog Outputs
0-5000 mV or 4-20 mA
Analog Wind Scale: 0-100 m/s
Analog Direction Scale: 0-360 or 0-540 degrees
Output Update Rate
0.1 to 10 Hz
Power Requirement
Sensor: 10-30 VDC < 20 mA typical
Heater: 24 VDC
Environmental
Operating Temperature: -40 to +60°C
Protection Class: IP65

Size Specifications
| | |
| --- | --- |
| Dimensions (cm) | 29cm (H) x 11cm (W) |
| Weight (kg) | 0.4kg |
Further information
Manufacturer Product Features and Details
Product Sheet
User Manual

Product Code
RMY-91000
---
We Also Recommend